Introducing the Next Generation of Kafkai: The Advance Mode
Introducing the Advance Mode, our latest iteration for Kafkai.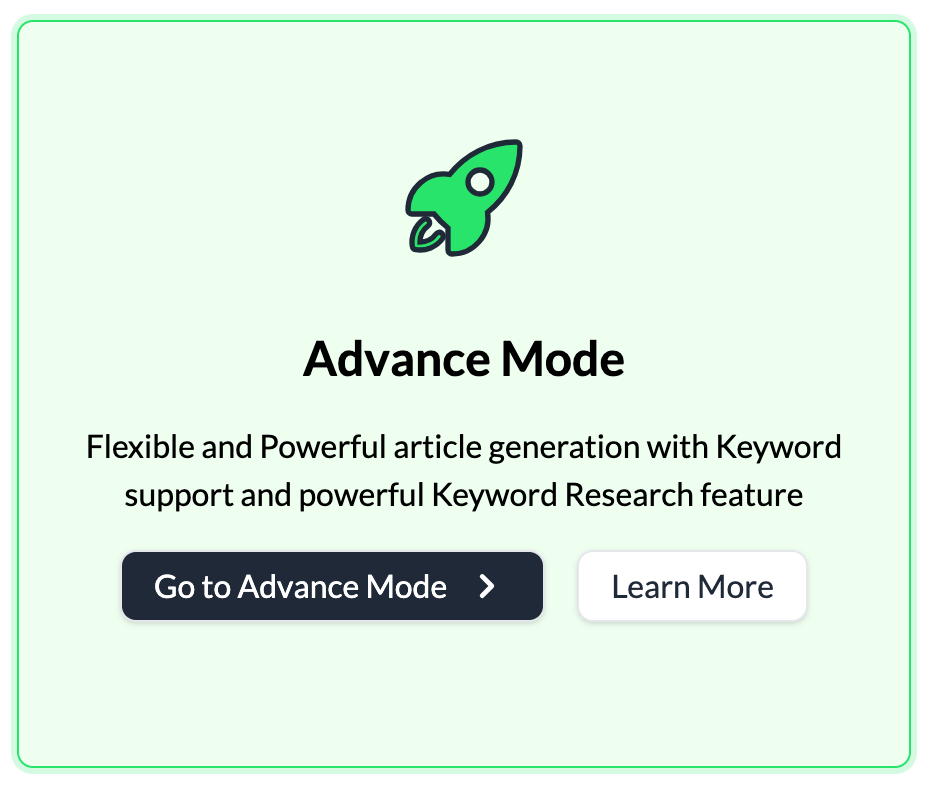 Introducing the Next Generation of Kafkai: The Advance Mode
Kafkai has been around since 2019 and between then and now it has gone through multiple iterations. Our True North has always been what our customers tell us, coupled with our aim of always giving back more value than what our customers give to us.
So today we're excited to introduce the latest iteration of Kafkai, the "Advance Mode", a new mode to generate content for your blog complementing the current workflow which we are now calling "Easy Mode"
Advance Mode is packed with an array of remarkable features designed to empower your blog content creation like never before.
1. Powerful Keyword Research Feature: Fuel Your Content with Precision
Keywords on what to write are the foundation of any successful blog content creation strategy. With the new Kafkai, we've integrated a powerful keyword research feature that adds immense value to our customers. Now, you can effortlessly discover the most relevant and trending keywords to enhance the visibility and impact of your content. This feature equips you with the insights you need to attract a wider audience and boost your blog content's reach.
2. Customize with Your Keywords or Titles: Unleash Your Creativity
Your creativity knows no bounds, and Kafkai ensures that by allowing you to add your keywords or titles. Whether you have specific topics in mind or want to put a unique spin on your blog content, Kafkai accommodates your creative process. The power to mould your content is now in your hands.
3. Competitor Keyword Magic: Stay One Step Ahead
In the digital realm, understanding your competition is vital. Kafkai now enables you to gain insights into your competitors' keywords. Just input a URL, and Kafkai will generate a blog article optimized around these keywords. It's the ultimate tool to stay ahead of the game and maintain your competitive edge.
4. Extended Word Limit: Dive Deeper with SEO Large Format
When it comes to comprehensive content, sometimes you need more words. With the Advance Mode, you can generate blog content of up to 3000 words in SEO Large format, ensuring you can dive deep into any topic.
While these below are upgrades also available in the Easy Mode
1. SEO-Optimized Article Structure: Climb the Rankings
We understand the importance of SEO in today's content world. That's why we've optimized the article structure to ensure it aligns even more with SEO best practices. Now, your content is not only engaging but also poised to climb the search engine rankings, bringing more eyes to your work.
2. Enhanced Formatting and Visuals: Craft Beautiful Content
First impressions matter. Kafkai's enhanced formatting ensures that your blog content is not only informative but also visually appealing. Each article now comes with a carefully crafted layout that keeps your audience engaged and immersed in your message.
3. Automatic Images: Bring Your Content to Life
Nearly all of our customers add an image to the blog content that they generate on Kafkai. It takes time to find the correct images and upload them to your hosting provider. We've added functionality that now automatically does this. The images are hosted on our app so you can call them as is, through the HTML or Markdown which you can download, without having to host them yourselves.
Note on these images: We pull these images from a database of royalty-free images which can be used commercially. While photographers and users who upload their content to the database represent and warrant that they have all the rights therein and that the content does not infringe any third-party rights, we however do not make any representations or guarantees for the rights granted hereunder to you.
4. Multiple Download Formats: Choose Your Style
You can now download your articles in different formats. Whether you prefer Markdown, HTML, or plain text, you have the freedom to choose the format that suits your needs.
Moving Forward
The new Kafkai is not just an upgrade; it's the next step in our iteration toward revolutionizing the blog content creation process.
With powerful keyword research, customization options, competitor insights, SEO optimization, beautiful formatting, images, and extended word limits, Kafkai is your ultimate content-generation companion.
Join us in this exciting journey of blog content creation. Try the new Kafkai today and experience the future of content creation right now. Let your creativity flow, and watch Kafkai take it to new heights.
We hope you enjoy creating your blog content using Kafkai as much as we enjoy building it and making you, our customers, happier human beings.
If you have any comments or questions, please feel free to contact us at [email protected].